Graduation & GCDS
Officially a computer scientist
As of today, I have graduated and I am now officially a master of computer science, with a specialization in software engineering. Awesome! I graduated magna cum laude (with an average of 81.52%) and scored 18.5/20 on my masters thesis. Needless to say, I'm very pleased with this.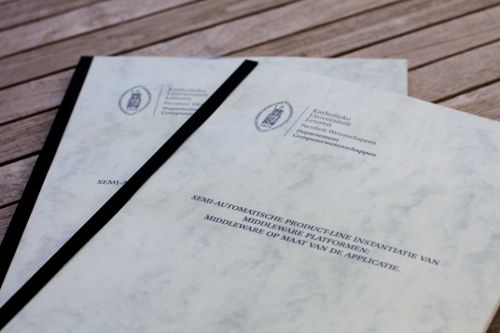 The master thesis: 85 pages of fun
What's next? After much indecision as to whether I'd like to find a job in the open-source (GNOME) world or do something else, I've accepted a PhD offer at the Distrinet Research Group of K.U.Leuven. GNOME hacking will stay a spare-time activity for now, though I might change that decision in a few years. Exciting times ahead!
Gran Canaria Desktop Summit
Tomorrow I'll be flying out to the Gran Canaria Desktop Summit. I'll be spending 11 days in Gran Canaria. I will be arriving in the late afternoon, so that shouldn't stop me from dropping by at the Canonical hosted opening party. Really looking forward to another GUADEC, Istanbul 2008 was really great. Many thanks to the GNOME Foundation for sponsoring part of this trip, without them, this would not have been possible.


Gran Canaria Desktop Summit (GUADEC)
I won't be giving a talk, but if anyone wants to have a chat about F-Spot (or any other subject), come and find me!